Running a small business can be hard and expensive. Anything you can do to take your business to the next level without spending any money is a win win. Below are 4 tips that are small and free but truly make an impact. 
01 | HAVE YOUR EMAIL @YOURDOMAIN.COM
This is a little shocking to me but every day I come across a business that is using a Gmail email address. This right away tells me that you are new to the game. I know there may be some seasoned business owners that use a Gmail email but overall, the perception is that you're a rookie. It's super easy to do (This article can help you set up your email if you're using Google Apps and Gmail.) and it really makes you look more professional.
02 | VAMP UP YOUR EMAIL SIGNATURE
This is SO simple and yet can make a huge impact! Instead of just including a basic text, "Sincerely, Your Name" take it a step further. There are many ways to create an email signature but I created a "canned response" so I could easily add it at the end of my emails. This is helpful if you have more than one person working on one email account. For instance, if you have a customer service email and you have 3 people managing that account, canned responses make it super easy for each person to have their own signature.
Some things to consider including in your email signature:
 YOUR LOGO  Make sure it's small and not too obnoxious (keep in mind that a lot of emails get read on mobile devices). We are visual creatures so adding a little graphic can help you communicate your brand message very easily.
 NAME & POSITION  People want to know who they're speaking with. It's more personal and can help generate trust. If your email is something like hello@yourdomain.com, make sure you're including a name with your signature to let the person inquiring who exactly it is they're talking to.
 WEBSITE  Your website is where they can book your services or buy your products. You want to get them there. Make it simple and include a link directly in your email.
 OFFICE HOURS  This is extremely helpful when trying to set boundaries with customers or clients. If a customer emails you on a Friday evening and you don't respond to them until Monday morning, having your office hours in your signature will let them know you weren't ignoring them, your office was just "closed".
 SOCIAL MEDIA LINKS  You want people to be following you as many places as you can get them to. The more they come in contact with your brand, product or service, the more likely they are to buy what you're selling. Make sure you only include links to places you are actively posting. If you never post on Twitter
 CALL TO ACTION  Did you recently launch a new service or product? Maybe you're speaking at an upcoming conference. This is a great place to include a call to action but remember to keep it simple and precise. You don't want your signature to appear cluttered.
03 | MAKE SLIGHT CHANGES TO YOUR FREE TEMPLATE
Web design can be so expensive. I definitely think it's important to invest in a great website but there are steps you can take if you're still saving for a custom design. Depending on what platform you use (I use Shopify to host my site, shop and blog) there are a number of free templates to choose from. Select one that's pretty basic so you can add your own touches.
Ways to upgrade your free template:
 CHANGE FONTS  Sometimes you can easily edit the fonts within your theme or template. I know with my Shopify themes there are often many options to choose from. If there aren't any that I like I change it in the CSS. This takes a little HTML knowledge but generally if you Google your question there will be a tutorial waiting for you, Make sure you are selecting fonts that are an exact match or pretty close to the fonts you use in your visual branding.
 USE PHOTOS & GRAPHICS TO TELL THE STORY  Nothing makes your website or product come alive like actual photos. Whether you're taking them yourself, hiring a photographer or using stock photography, use images and graphics to tell the story. Remember that people will buy how you make them feel and when selling online, great pictures are the number one way to do this.
04 | EDIT YOUR STOCK PHOTOGRAPHY MOCKUPS CORRECTLY
Thankfully there are so many stock photography options out there these days. (My favorite in the SC Stockshop by Shay Chochrane.) But, even though there are a lot of options, if you don't use them properly, you can do more damage than good.
Ways to get the most out of your stock photography:
 REALISTIC DETAILS  In this particular SC Stockshop photo below, the frame included had a white mat. I have seen a number of people just overlay a white rectangle for their print. This is OK, but it's really not the best solution as you lose some depth and shadowing. In Photoshop, I cut out the white rectangle that was already in the image and on a separate layer I placed my art print. This allows the print to look like it is below the mat, not on top, where it belongs.
 STAY AWAY FROM PERFECT WHITE  The white you see on your screen will never be how your print looks once it's printed out. To help make your mockup look more realistic, make the white of your paper darker, more ivory. In the mockup below I selected the white of the mat and then adjusted it a bit. These subtle and easy edits make it look much more realistic.
The following photo is from the KateMaxShop on Etsy and believe it or not I have seen (on more than one occasion from more than one shop) product mockups that leave the print slot open and just overlay their artwork. Especially on a stock image like this, the detail on the wall would be a dead giveaway that your image is a mockup. You want your images to look real, so people are able to envision how your products will look in their own lives. Even if the wall had been solid white, the shadowing the mat leaves is not realistic. There would not be that heavy of a shadow on your print if it were actually in the frame.
I hope these two examples help. I have plenty of examples to choose from of what NOT to do, but I didn't want to call any shop in particular out. I'm sure y'all get what I'm sayin'.. ;)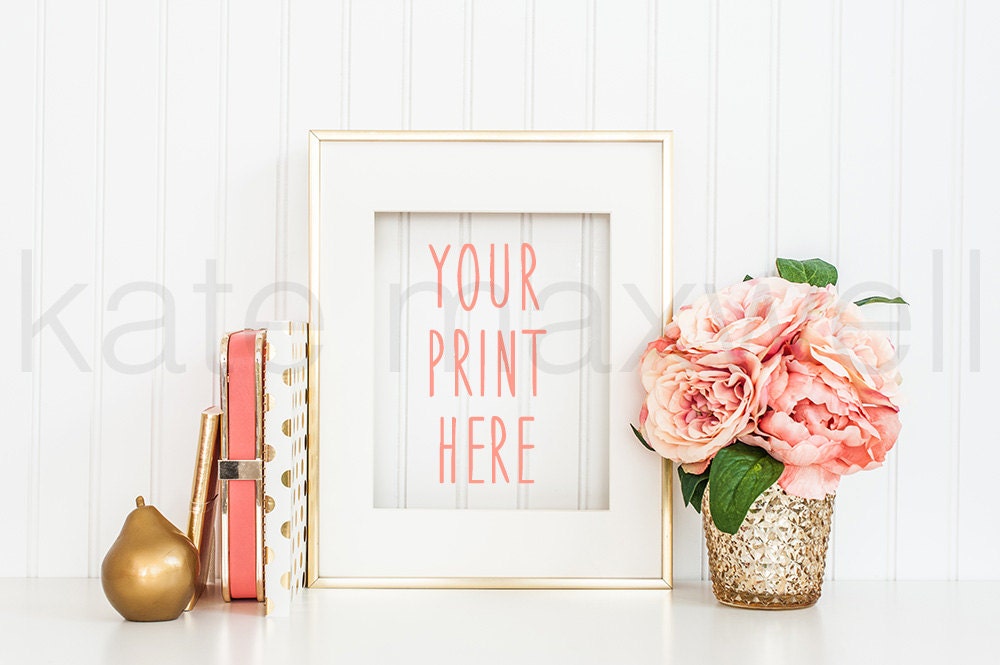 So, if you are having a "slow" day and don't really have it in the budget for large improvements, take a look at this list. How can you implement these changes into your own business. What other ways can you expand upon them to help you look more professional?